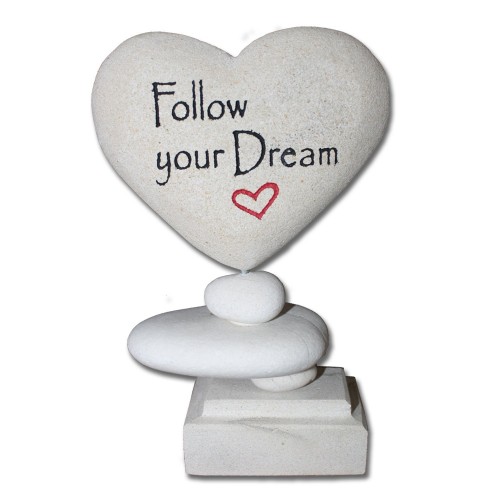 Cyber Monday is upon you and there's nothing like a little pressure and some online shopping to force you to start thinking about your dreams for the coming year.
I normally write about launching your big dreams online and how you can be successful online, so you might be wondering why I'd post something about Cyber Monday and gift ideas for dreamers.
Recommending something to your readers is a great test for seeing how well you are connecting with them, as well as seeing if any of your followers are interested in buying something from you in the future.
You can get product development ideas this way and save your readers the trouble of hunting these interesting items down for themselves. Plus I love the idea of dream talismans for reminding you to take a chance on you and your dreams. I have a Dream Big wall plague that hangs above my computer.
Here are my Cyber Monday Gift Ideas for Dreamers:
Give this book to anyone struggling to figure out what their big dream is.
Once shrouded in secrecy like a diary or personal journal, vision boards have been used by Oprah and praised by big dreamers throughout the world.
They can be anything from colorful canvases on a bedroom wall to modern-day career maps in your personal cubical.
Considered highly inspirational and deeply personal in nature, vision boards can be comprised of anything creative and meaningful to you such as photographs, collages, mementos, drawings, and quotes, all of which serve to create a visual layout of your big dreams and personal aspirations.
It Works was first written and published in 1926. The author, R. H. Jarrett believes that making your big dreams come true begins with just 3 simple steps as outlined in his small book, It Works!
It Works is a concise, definite, result-filled plan with rules, explanations and suggestions for changing your life.
Download this FREE pdf version of his little book here on 8 Women Dream and have it printed and give it to that big dreamer on your gift list.
Print-My-PDF.com is an excellent service which allows customers to upload large PDF files and have them printed and bound into a cost effective manageable sized booklet.
Click here to Download the pdf book, 'It-Works.'
Dreaming and reminding yourself to think of your dream as you move about your space is as unique as your style. Wall decals are a great way to remind yourself that you deserve to dream big.
A wall decal, also known as a wall sticker, wall tattoo, or wall vinyl, is a vinyl sticker that is affixed to a wall or other smooth surface for decoration.
Add a decal to your wall to help with your creative visualization mental technique to spark your imagination to help make your dreams come true.
It is thought that the wearing of charms may have begun as a form of amulet to ward off evil spirits or bad luck.
During the pre-historic period, jewelry charms were made from shells, animal-bones and clay. Later charms were made out of gems, rocks, and wood.
Charms were once coveted as protective shields and signs of status and are considered good luck. (Source: Wikipedia) It only seems fitting that you add a dream charm to your favorite bracelet or necklace to keep your dream close to your heart.
Tools4Wisdom  wants to know if you are living the life you were born to live.
Or, is your dream life still just out of your reach?
Making your dreams come true is life's ultimate prize.
Tools4Wisdom wants to partner with you on that journey. Their famous planners help you accomplish not just what you have to do, but also what you want to do.
Writing down your thoughts in this beautiful paper planner also boosts your creativity: Scientific studies have proven that the act of writing by hand actually inspires new ideas! So the more you write, the more ideas will flow from your pen, and the sooner you and your destiny will meet.
Affirmation and Inspiration Cards Based on the Best-Selling book, The Game of Life & How to Play It.
For more than three generations, The Game of Life & How to Play It has been an immensely popular manual of simple, easy-to-use ideas and techniques illustrated with fascinating and entertaining real-life examples that demonstrate how the power of your word can make your dreams come true.
With these powerful cards, you can now keep the positive words of The Game of Life with you everyday as you set your course to success.
Each card is a prompter and reminder, affirming the good you will make happen in your experience.
Make a visual statement about dreaming big dreams.
Here at 8 Women Dream we believe in dreaming big, but starting small and most importantly:
Don't let small minds convince you that your dreams are too big.
Remind yourself that your dreams are never too big with a reminder on your SmartPhone that shouts,
"They say I dream too big I say they think too small."
It is believed that guardian angels are spirit angels assigned to protect and guide a particular person, group, country, or idea.
This particular Guardian Angel's job is to intervene on behalf of big dreamers everywhere, to remind you that if you believe, all things are possible.
Nothing like a hand-painted ceramic to make you smile and remind you to take that next step in making your dreams a reality.
This post is more than just support for 8 Women Dream.  It's a marketing test, a price test, a product test, a headline test, a keyword test, and a trend test all in one post.
I offer some adorable items I found online for our lovely readers I adore and in return how they interact (or don't interact) with this page tells me more about them, how I can improve my connections with them, and how I can better help them in the future.
Now don't you know a dreamer that needs one of these gift ideas for dreamers?
And by the way — there's a free item above too…
Happy online shopping dreamers.
Catherine Hughes
Be a Success Online
[fbcomments]